eufySecurity App
Use your smartphone for high-resolution live streaming of what eufyCam sees in real-time, and warn trespassers they're on camera.
Face-Recognizing Alert
Face recognition technology detects and captures most important events and eliminates unnecessary alerts, reducing the number of false alarms you receive.
Night Vision Enabled
Top-of-the-line Sony Exmor sensor, combined with a large f2.2 aperture, provides crisp and clear low-light footage in the evening.
Excellent Optics
The 140° wide-angle lens provides a panoramic view, spanning from your driveway to the front door—with no spots missed.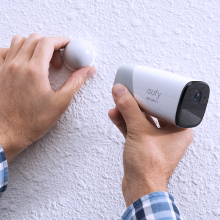 Easy Installation
Every eufyCam comes with a magnetic indoor mount for 1-second installation and an outdoor mount for a more permanent mounting location.
IP-67 Weatherproof
Constructed from cutting-edge ASA composite material, eufyCam works perfectly in rain, freezing -4°F (-20°C) winters, or scorching 122°F (50°C) summers.
Integrated with 3rd-Party Apps
eufyCam works with Amazon Alexa, the Google Assistant for easy viewing and control of your surveillance.
Military-Grade Security & Anti-Theft Alarm
Your data is for your eyes only. Access to your footage requires the microSD card to be inserted into—and you to be logged into—the HomeBase it's registered to. A 100-decibel siren sounds with the volume of a jackhammer if the always-active accelerometer detects eufyCam is being forcibly removed.